2013.9.16
Professor Toshiyuki Ohtsuka received Best Paper Award in 2013 from the Society of Instrument and Control Engineers for the paper, "Model Predictive Control for Nonlinear Parabolic Partial Differential Equations".
2013.9.16
Prof. Toshihiro Hiraoka et al. received Best Paper Award (Tomoda Award) from the Society of Instrument and Control Engineers for the paper, "Eco-driving support system to encourage spontaneous fuel-efficient driving behavior."
2013.9.2
Mr. Yuichi HASEBE was awarded the 9th Emergence Systems Symposium the Second Best Poster Award.
2013.5.16
Prof. Toshiyuki Ohtsuka received Best Paper Award from the Institute of Systems, Control and Information Engineers for the paper, "Nonlinear Adaptive Model Predictive Control via Immersion and Invariance Stabilizability."
2013.4.22
The detail of our admission guidance was disclosed.
2013.2.7
Dr. Koichi FUJIWARA was awarded SICE Kansai chapter Encouragement Award.
---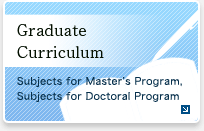 ---


Research and education in the Department of Systems Science deals with a new and unified approach to varied technological problems from the standpoint of systems science. In particular, the approach requires the study of complex systems in the light of self-regulation, self-organization, and self-production. This is closely related to the need for study of the rapid growth in intelligent systems, and also in global systems such as world-wide computer networks. Emphasis is also placed upon the understanding of complicated mutual interactions, hierarchical systems, distributed or parallel self-determination, human-machine interfaces, biomedical engineering, and medical information systems. The Department supplies a variety of programs for solving pertinent system problems: the analysis, design, control of systems, decision making and simulation algorithms and techniques, as well as their bases in applied mathematics, application software, and hardware. The Department has three regular divisions and one cooperative division. Each division consists of a few chairs. Thirty graduate students are admitted into the Master's program, and 13 into the Doctoral program.